Never underestimate the power of a sexual innuendo post title which just so happens to be appropriate for the following content. I like my bags to come with shoulder straps

,

which explains my aversion to tote bags whose handles are too small to wear over the shoulders; but let

us bring outerwear into the equation

. The
subtle difference between strapping a bag over or under your jacket can alter your look more so than you think. Personally, my temperature tends to fluctuate faster than the stock market,

so

I often need to remove or put on a jacket to readjust my unstable body climate, which early on nudged me to wear my jackets over the strap simply for convenience. So

let's

start with what I call the "over-strap". It's

simple

, basic, and doesn't necessarily even need a term to describe the style of which it is being used, b

ut for post-sake, let's keep it.
Then we c

ome to

the "under-strap" which as I said is a personal favorite, providing the option of removing your c

oat without first taking off your bag.
Plus it

drastically

minimizes the chance of creating m

ore

hassle when in

removing

the strap gets w

rangled up with earphone wires.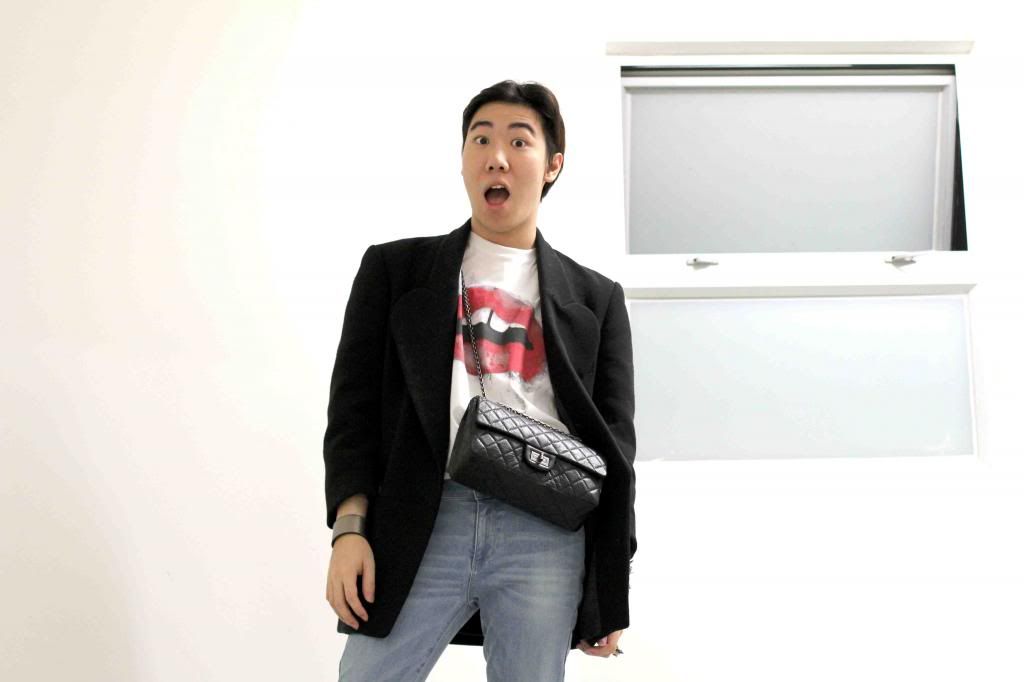 Last but certainly and most likely not least, option number three aka. "under-strap + drape cape", that's
seen worn often during fashion weeks,

and

made especially popular by fashion editors such as Taylor Tomasi Hill and Kate Lanphear who loathe putting their arms in sleeves but love coats.
blazer
PUSH BUTTON,
top MARKUS LUPFER

,

bag

CHANEL

, trousers

UNIQLO

,

brogues

PRADA, watch MICHAEL KORS, bracelets SALVATORE FERRAGAMO & ASOS
,
ring
MAWI