Simply making my journey to the nearest supermarket demands a face-off with the Arctic treatment. Unfortunately, being the impatient shopper that I am, I have stocked up a handsome pile of spring clothing and accessories that are inappropriate to venture out in

during

the current climate. So the logical and mature decision would be to wait it out, but that's not gonna happen here; so, I turn to layers. Take your newly coveted spring

-wear

and just start muckin

g around with

layers of fabric.

It's a

mazing how in doing so

can be so cool and feel so warm. Presenting my take: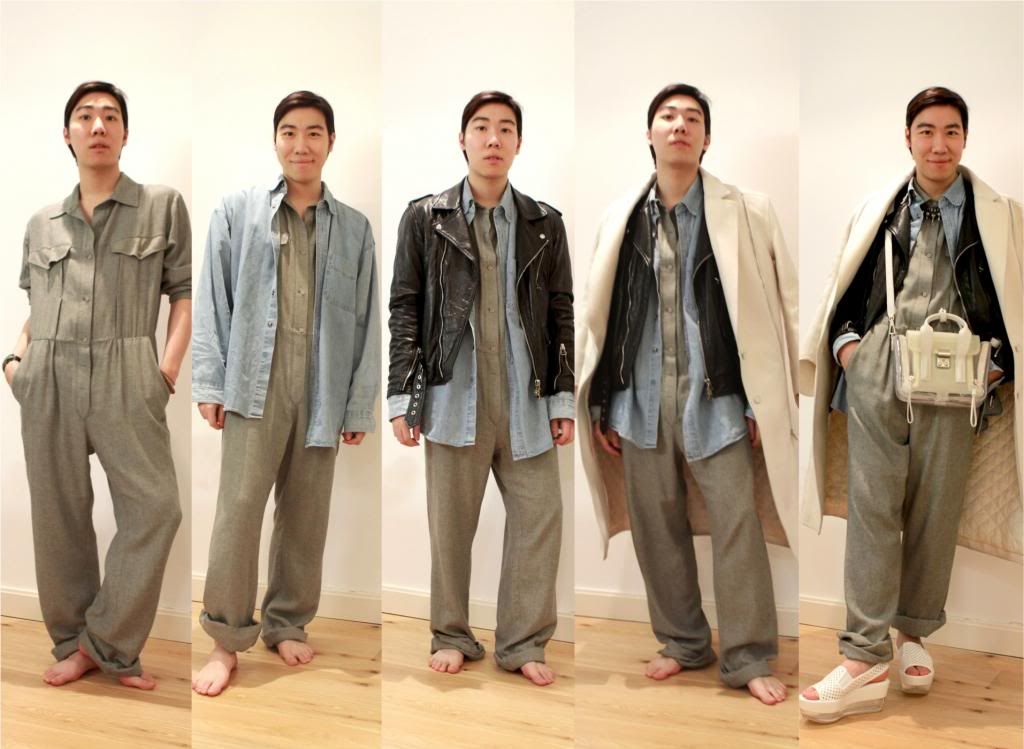 Phase 1: Start off with a jumpsuit which I feel is very prison-chic, sort of a Shawshank Redemption reference but without Morgan Freeman's monotone narrations. Come to think of it, this looks more like a high school janitor's uniform

.
Phase 2: Here comes the obligatory denim injection in the form of a large men's shirt. I recommend borrowing one from the boyfriend or father who still keeps remnants from his hippie

-

dippie groovy days. Is that

a hint marijuana

I detect whiffing off this shirt? Right

eous bro...
Phase 3: Ma' trusty wax-coated leather biker instantly besto

ws

upon

this look

an aura of coolness of the likes of James Dean. At this s

tage, I

resemble a me

mber

of a Hell's Angels biker gang who moonlights as a janitor to pay off his credit debt of

weed addiction.
Phase 4: Now 'not so' casually sling a longer coat or any heavy outerw

ear

over the shoulders for that extra layer of warmth designed solely for your back; because as we all know, pedestrians are too cold to have the energy

to physically

turn around and check out your back. Plus apparently it's 'cool' to involve two types of outerwear wi

th

in one look. If you think your spine and ankles can

bea

r the weight, I provokingly dare you to pile on a third one

.
Phase 5: Load up on

necessities

and accessories cause it's gonna be a long winter. Though exposed toes is a widely frowne

d upon sartorial

feature for subzero travels, I assure you that your ears tend to freeze off way before the toes.
jumpsuit MM6 BY MAISON MARTIN MARGIELA,

men

's

denim shirt VINTAGE, biker 3.1 PHILLIP LIM, coat ALEXANDER WANG
, bag

3.1 PHILLIP LIM
, necklace MAWI, shoes STELLA MCCARTNEY