Still submersed deep in this intolerable heatwave and depraved of something as basic as an air-conditioner, it's no wonder my daily sartorial choices have yielded to my desires of simply wearing, if I may, 'anti-sweat-wear'. But the stylist within

me

still yearns for some form of personal

ity

to

seep through those mundane rags on my sweaty back. Take something as classic as

white tee blue jeans, which in my book now needs to be re-branded then regurgitated back as that 'new look with a twist' bullshit you read so much on blogs already #LetsBeHonest. If Lana Del Ray's

single

Blue Jeans was of any indication, is that this denim white-tee combo has you resemble the eternally cool sir James Dean. Obviously Stella McCartney opened toed plexi-wedges provided a

much needed

foot-breathing feature, while the rips in the boyfriend jeans gave wind to some slither of coolness to travel up my thighs. Did I still sweat? Hells yeah, it's 31 effing degrees, pit stains are inevitable

;

but that ain't gonna stop me from dishing out the dance moves via GI

F form.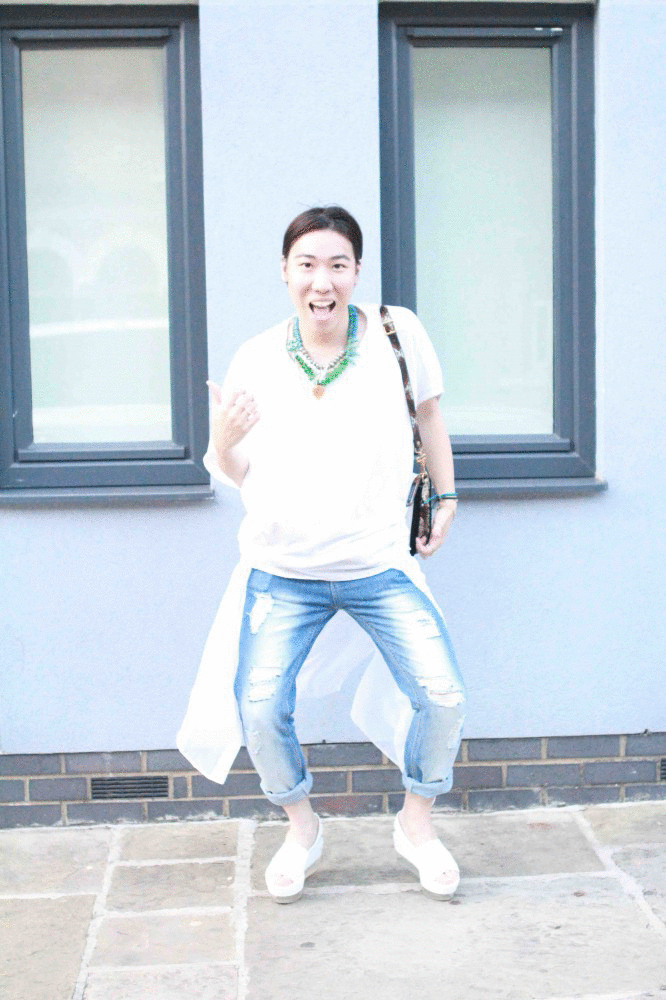 necklace DANNIJO, t-shirt BOUTIQUE, sheer shirt VINTAGE, boyfriend jeans PRIMARK,
satchel PROENZA SCHOULER,
shoes STELLA MCCARTNEY